Package Content:
- HDMI- RCA cable x 1
Specification:
- High performance HDMI- RCA cable suitable for HDTV, Home Theater systems, and all other HDMI to RCA supported appliances.
- High definition video output
- 24K gold plated connectors for better signal transfer
- Support 480i, 480p, 720p, 1080i, 1080p
- HDMI Male to 5 RCA RGB Audio Video AV Cable
- Item Type: HDMI Male to 5 RCA RGB Audio Video AV Cable
- Core of Cable Material: Copper
- Cover Material: PVC
- Interface: HDMI in, 5-RCA out
- Cable Length: (approx )1.5 m
- Weight: 5.78 oz (164 g)
- Color: Black, Yellow, Green, Red, Blue
- Transfers HDMI signal to another device that takes 5 RCA component video inputs
- Thick and flexible PVC jacket with color coded connectors for easy connection
- Cable constructed using the high quality material for best cont
Description:
 - In order for these two formats of signal to communicate with each other, both input and output devices needs to support the signal conversion function (code and decode)
 - kindly check with your user manual. If both input / output devices DO NOT support signal conversion, a signal conversion box is required
 - HDMI to RCA cable is designed to connect and transfer signals from HDMI port to RCA port. This cable functions as a signal transmitter, but NOT a signal converter
 - Unidirectional HDMI in to 5 RCA out
 - Please make sure both input and output devices are off when plug and unplug this cable.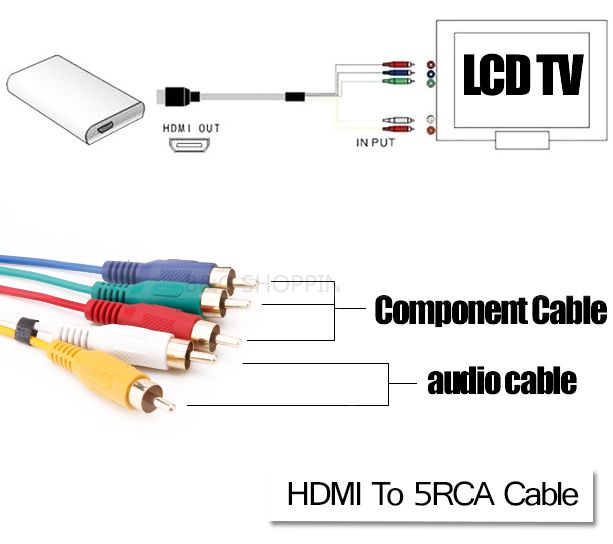 HDMI to 5 RCA Cable RGB 1.5M Converter Adapter HDTV Cord Video Audio AV AU